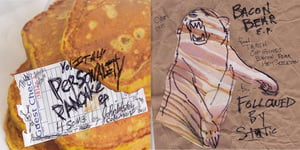 €

5.00 - On Sale
First press of 500 copies.
150 on dirty white wax. 350 on black wax.
TRACKLIST
SIDE A: John Wesley Coleman III - Personality Pancake EP
1. Funky Monster
2. Personality Pancake
3. I'm Fucked And I'm Cool
4. If Giuseppe Andrews Hears This Song, Tell Him To Give Me A Call And Let's Party
SIDE B: Followed By Static - Bacon Bear EP
1. Trash 2011
2. Cop Gloves
3. Bacon Bear
4. Hey Skeleton
Code: WOT 001
This item will not be shipped before july 20th.
For multiple orders or wholesale price, please get in touch at: wayoutthererecords@gmail.com.